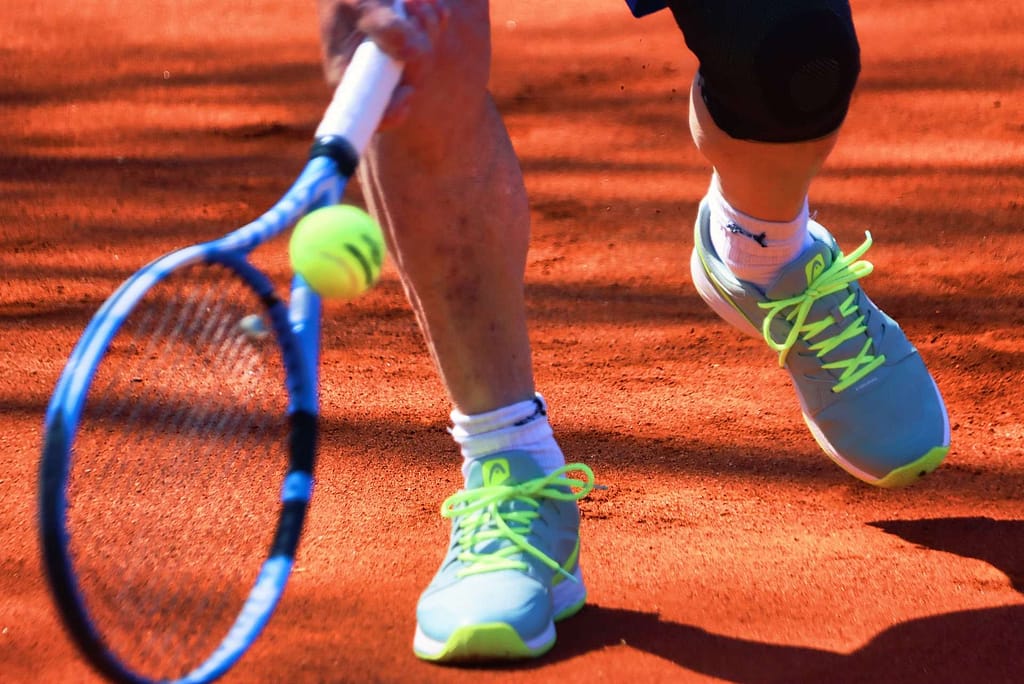 Please note that this article may include affiliate links. You can read my full disclosure at the bottom of the page.
Nearly 25% of the population has flat feet. And if you are one of them, that means you don't have a pronounced arch in your feet.
The right shoes are important for individuals with flat feet because they provide support, stability, and comfort. Flat feet can cause a number of issues, such as pain, discomfort, and poor posture, which can lead to further problems if left unchecked. The right shoes can help to distribute weight evenly, reduce pressure on the feet, and consequently prevent overpronation, which is the excessive inward rolling of the feet that can occur with flat feet. This can help to reduce pain, improve balance and stability, and also prevent injury. Additionally, shoes with good arch support and a sturdy sole can help to keep the foot in the correct alignment, reducing the risk of further problems developing in the future.
But we have got you covered. Here is a list of our top 5 recommendations for the best tennis shoes for flat feet.
With their awesome stability and low-to-the-ground design, these shows will offer robust support to your flat feet.
These Adidas Adizero Ubersonic 4 Tennis Shoes were developed to help you get to the ball more quickly. Because speed buys time. And points. Internal reinforcements give lateral stability, while the stretch-woven upper and external heel clip secure you for fast sprints.
Additionally, their sock like fit and textile lining help with your balance and quick rebounds. An Adiwear outsole with a herringbone profile creates the perfect balance of traction and durability on hard court surfaces.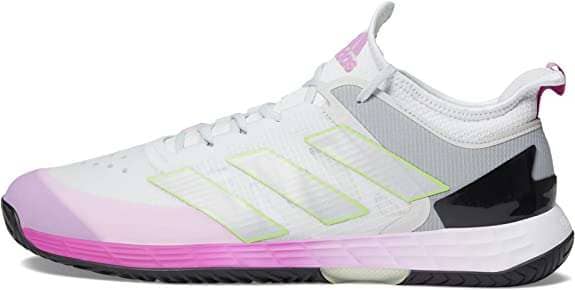 Pros:
Snug fit
Responsive
Lightweight and stable
Cons:
Narrow toe box
This is another great recommendation for tennis shoes for flat feet. Their intuitive lacing system combines with gap-filling heel pods to help you feel at one with your footwear. Underneath, a cushioned bounce midsole and midfoot shank add comfort and stability. Despite your flat feet, you can attack every point in total confidence wearing these.
Furthermore, their lightweight bounce cushioning provides enhanced comfort and flexibility, which is perfect for players with flat feet.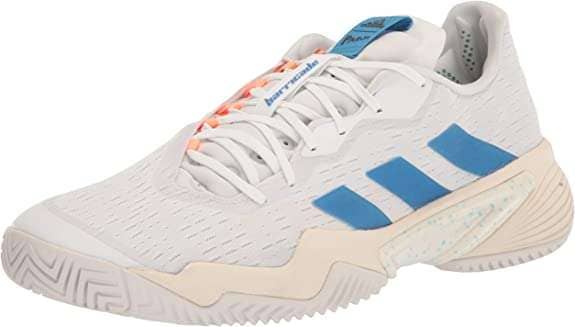 Pros:
Intuitive lacing system
Bounce midsole
Heel pods
Cons:
Break-in takes time
Yonex has modified the Power Cushion Eclipsion to make it much more comfortable and stable.
The shoes are ideal for persons with low arches or flat feet, because they are designed low to the ground. Additionally, a full-length graphite plate is positioned under the midfoot for added stability and support.
The Power cushion has been implemented to add 25% more shock absorption. The cushioning gives your every step more bounce by providing maximum propolusion.
Whether you're playing on hard courts or just need a stable shoe, this might be your best bet.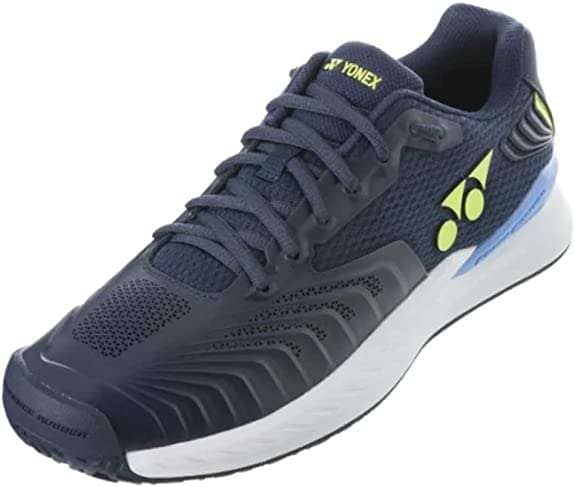 Pros:
Low ground clearance
Stunning design with a PU upper that is flexible and breathable
Flexible outsole
Excellent stability and grip
Cons:
Might run a little narrow
They are considered one of the best overall shoes, and so many pro players like Berrettini, Karatsev, Swiatek, and more use them. They are a great choice if you are looking for a responsive shoe with accelerated response.
These ASICS shoes are perfect for players with low arches who desire stability and support beneath their feet.
Additionally, the flat design of the midsole and footbed makes the shoes a perfect match for those who have flat feet.
Your feet are protected from harm with Twistruss technology, which helps in avoiding twisting and torsion of your feet.
All things considered, you can't go wrong with the Gel Resolution 8 to give comfort to your flat feet.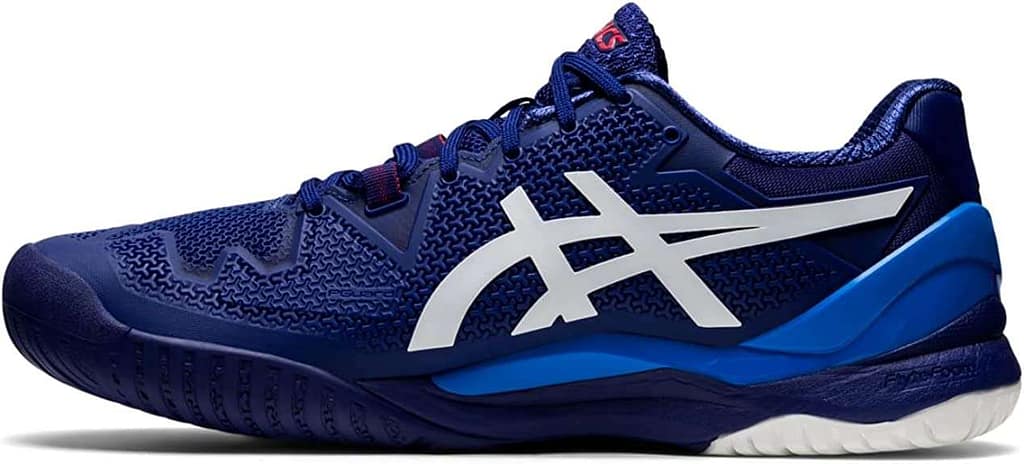 Pros:
Supportive padding for the heels, arch, and ankles.
Responsive
Flexible
Cons:
Some players find the fit too narrow
These shoes offer great stability for those who have flat feet. They seamlessly blend engineered cushioning and foam for a supportive fit. The Hypoknit upper adds a soft, breathable and supportive fit, while Fresh Foam X provides comfortable cushioning underfoot to keep you going. The mesh upper and heel design hug your foot from all angles for a snug and supportive fit.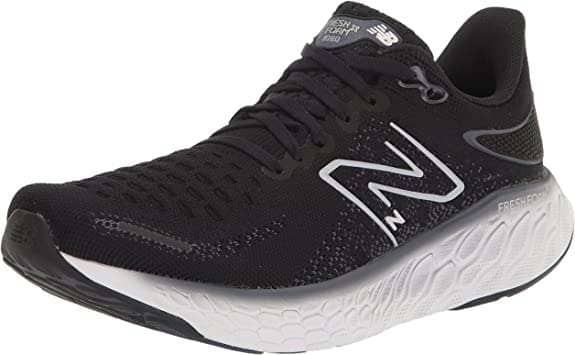 Pros:
Robust support with the fresh foam
Snug fit
Responsive
Cons:
The shoes tend to run narrow, so if you don't have narrow feet you may need to order a size up, or choose the wider options
So, these are our recommendations for best tennis shoes for flat feet. Finding the best tennis shoes for flat feet is an important step in ensuring comfort, stability, and performance on the court. With so many options available, it can be overwhelming to choose the right one. But by considering factors like arch support, cushioning, and stability, you can narrow down your choices and find a pair of tennis shoes that will keep your feet happy and pain-free during intense matches. Remember to also try on different shoes and walk around in them to make sure they feel comfortable and provide the right level of support. With the right pair of tennis shoes, you'll be able to focus on your game and leave your flat feet worries behind!